History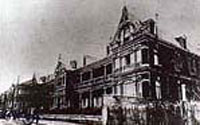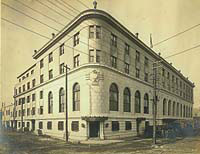 1860
Yokohama Hotel, believed to be the first hotel in Japan,
opened (it burned down in 1866).
1867
Tsukiji Hotel Kan opened
(it burned down in 1872).
1869
Yokohama Club Hotel opened
(it is said to have closed in 1930).
1870
Kobe Oriental Hotel opened (it closed in 1995 due to damage from the Great Hanshin Earthquake).
1873
Yokohama Grand Hotel opened (it closed in 1923 due to damage from the Great Kanto Earthquake).
1873
Nikko Kanaya Hotel opened
(the oldest operating classic hotel in Japan).
1878
Fujiya Hotel in Hakone opened.
1890
The Imperial Hotel opened.
1898
The Ritz Paris opened.
1926
The Hotel New Grand was conceived as a successor to the Yokohama Grand Hotel.
1927
Hotel New Grand opened. A legendary swiss chef Sally Weil took up his post as the first grand chef of the hotel.
1991
The Hotel New Grand Tower was completed.
2008
TICAD Ⅳ (The 4th International Conference on African Development) was held in Yokohama.
2010
APEC (Asia Pacific Economic Cooperation) was held in Yokohama.
2013
TICAD Ⅴ (The 5th International Conference on African Development) was held in Yokohama.
2017
The Annual General Meeting of Asian Development Bank was held in Yokohama.
2019
The Rugby World Cup will be held in Yokohama and Japan.
2020
2020 Tokyo Olympic Games and Paralympics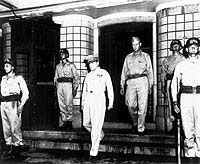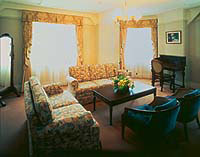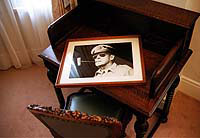 We cannot tell the history of the Hotel New Grand without mentioning the American General MacArthur. Eighteen years after the hotel opened, World War II ended and the US occupation began.
On August 30, 1945, General MacArthur arrived at Atsugi Air Base wearing dark sunglasses with a corncob pipe in his mouth and no tie.
This is a very famous scene in Japanese history.
At the airport, he read the statement he brought with him, climbed into a passenger vehicle, and drove straight to the Hotel New Grand.
It is said that the Allied army chose Yokohama as their first place to stay because the Hotel New Grand, which had not been damaged in the war, would be an appropriate accommodation for the commander in chief.
At the hotel, Room 315 became General MacArthur's room. This room on the third floor faced the port of Yokohama. MacArthur is said to have told an aide that he liked the room.
General MacArthur stayed only 3 days at the hotel before moving on to the next location, but it was not the first time he had stayed here.
In 1937, as a military advisor for the Philippines, he had accompanied the former President of the Philippines, Manuel L.
Quezon, on his trip to the US. On the way back to the Philippines, the party visited Japan, and MacArthur and his wife Jean stayed at the Hotel New Grand on their honeymoon.
---
Historic figures from around the world who have stayed at our hotel:
Charlie Chaplin, Babe Ruth, and Jean Cocteau